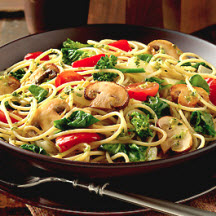 2 tablespoons olive oil
1 pound white button mushrooms, sliced
1 red bell pepper, diced
1 large onion, diced
1 cup bite-size broccolini pieces
1 pint grape tomatoes
1/2 cup vegetable broth
1/2 cup prepared pesto
1 cup baby spinach leaves
Freshly grated Parmesan (for garnish)
Bring a large saucepan of water to boil and prepare pasta according to package directions.

While water comes to a boil, heat olive oil in large non-stick skillet over medium-high heat. Add a single layer of mushrooms, red bell pepper and onions and cook, without stirring, for about five minutes or until mushrooms become red-brown on one side. Turn ingredients and cook about five minutes more, until other side is same color. Add broccolini, tomatoes and broth, and then stir in pesto. Bring to a simmer, and then add spinach and cooked pasta.

Transfer to serving bowl and sprinkle with fresh Parmesan.